» Publishers, Monetize your RSS feeds with FeedShow: More infos (Show/Hide Ads)
BCI Gives Thanks to the SEO Industry and Even Google
Date: Wednesday, 27 Nov 2013 17:57
BCI Gives Thanks to the SEO Industry and Even Google was originally published on BruceClay.com, home of expert search engine optimization tips.
Since Thanksgiving became a national holiday in 1863, the last Thursday of November has been a time dedicated to family, friends, food and reflection as Americans look back on the year and think of the things they are thankful for. As the Bruce Clay, Inc. staff reflected on the year, they discovered they had a lot to be thankful for within the SEO industry itself.
Bruce Clay Gives Thanks for Google and the SEO Industry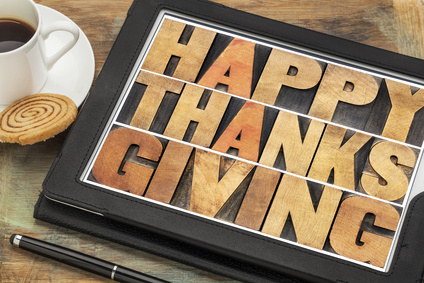 BCI president and founder Bruce Clay expressed gratitude for Google and the unique opportunity he's had to be part of SEO from the ground up.
"I think that the entire SEO industry would not exist if it wasn't for Google. Google changing things so often has been a catalyst for the need to have technology that is current. As Google changes, so does the demand for SEO and I am, quite frankly, thankful that Google has been here and promoted search and, whether intentionally or not, has fostered the need for search engine optimization in general," he said.
"SEO is an emerging industry — we got into it before it was even an industry and it has grown and grown, and I'm thankful for an opportunity to get into something like this at the ground floor. The vast majority of all the people in the world never get to participate in the formation of an industry, and I am really thankful for having had the opportunity and support of my clients and colleagues to be in an industry which I find to be amazingly dynamic and a lot of fun."
BCI's Staff Gives Thanks for Leaders, Tools, Books & More
And here, more of our words of thanks from across our team. We'd love if you'd add your thoughts to our conversation via the comments. There's so much to be grateful for.
"Matt Cutts and his videos — he does a really great job of being helping webmasters and SEOs. He provides insight into SEO technicalities so there's less confusion. I appreciate Cutts' time." —Maryann Robbins
"I'm thankful for the SEOToolSet. Without it clients wouldn't understand what 'getting the red out' means, plus it's a great reference point for clients that know little or nothing about SEO. And coffee. I'm thankful for coffee." —Micah Albert
"I'm thankful for a profession and peers that constantly challenge me to grow and learn. (I'm especially looking at you, ladies; you know who you are!)" —Virginia Nussey
"'SEO for Excel' by Niels Bosma — it makes Excel infinitely useful for SEOs." —Robert Meinke
"I'm thankful for the steady stream of SEO information coming from resources like Search Engine Journal, Search Engine Watch, Search Engine Land, and of course, The SEO Newsletter." —David Vasquez
"I am thankful for Barry Schwartz constantly keeping an eye out for Google updates – his consistency keeps me sane. Also there is a great book out by Robert Scoble and Shel Israel: 'The Age of Context.'" —Bradley Leese
"I'm thankful for the Inside AdWords blog that keeps me on my toes when it comes to updates and improving account performance. I'm also thankful for Elizabeth Marsten's ebook, 'Write Ad Copy-that Inspires Greatness,' which keeps me in tune with my creative side when creating ads." —Diana Becerra
"I'm thankful for mobile and the new frontier of opportunities the platform presents to digital advertisers and marketers." —Matthew Young
"No. 1: Manual Actions in Webmaster Tools – it keeps us busy. No 2.: 3.4 ghz processors that allow me to work much faster. No. 3: Occasional sunlight in my office." — Luke Bowen
"I'm thankful to be part of a team committed to integrity and thought leadership in an ever-shifting industry, and especially to work on projects like the nearly finished 'Content Marketing Strategies for Professionals' book, which express those values through education." —Paula Allen
"I'm thankful that we had fewer Google algorithm updates this year than the last." —Naghmeh Jafarzadeh
"I'm grateful for good blogs like The Bruce Clay Blog and Occam's Razor that help make sense of a deep and dynamic industry. I'm also grateful for patient coworkers who answer my endless questions!" —John Alexander
"I'm thankful for thought leaders like Bruce Clay and Eric Enge. Their insights are a useful resource for SEO analysts." — Tiago Puel
"I am thankful for the team collaboration at BCI. Our SEM, SEO, and content departments work together rather than individually. Our collaborative approach boost client results and allows everyone at BCI to learn from one another." —Michael Shore
"I'm thankful for Google Webmaster Tools videos and our spankin' new computers that make sifting through our miles of data much easier." —Rob Ramirez
What are you thankful for when it comes to search engine optimization, search engine marketing or social media marketing? Share with us in the comments.
Search & Social Workshop Triple Header Is a Can't Miss for Bay Area Marketers — Plus a Promo Code for a Can't-Be-Beat Price!
Date: Friday, 22 Nov 2013 20:18
Search & Social Workshop Triple Header Is a Can't Miss for Bay Area Marketers — Plus a Promo Code for a Can't-Be-Beat Price! was originally published on BruceClay.com, home of expert search engine optimization tips.
It's Christmas come early for Bay Area Internet marketers next month when Search Engine Journal hosts a limited-engagement SEO and social media marketing workshop led by Facebook Director Matt Idema, SEJ Managing Editor John Rampton and SEO industry pioneer Bruce Clay.
Opportunities to get marketing advice from a Facebook executive in an intimate setting are rare, even in San Francisco's hotbed of tech entrepreneurialism. An hour with a Facebook exec, including time for Q&A, doesn't usually come outside a full industry conference pass. Bruce Clay's training is a deep-dive SEO experience that every marketer who thinks he knows SEO should experience. A day of training with Bruce at a conference like SMX can cost more than $1,000.
On Dec. 3, 50 people will get to spend the afternoon with top-of-field experts getting in-person advice on leveraging the Internet's hottest platforms — Google, Facebook and Pinterest.
Get your seat here for just $89 with promotion code bruceclayVIP.
Need-to-Know SEO Strategies from Bruce Clay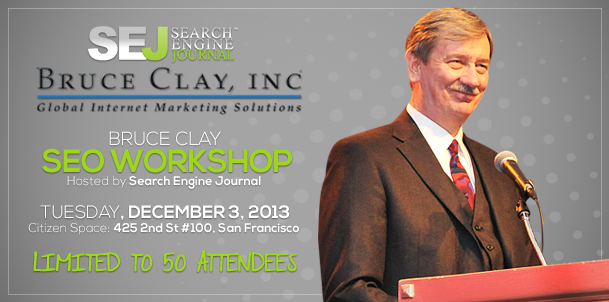 Clay's five-star SEO training is the main event during the Dec. 3  Workshop. SEOs of all levels have something to learn as Clay breaks down the mechanics of SEO as it relates to content, IT and other business departments. Learn:
Why SEO is integral to all businesses and brands with an online presence
How Google rates websites
How to rate your own SEO success
What constitutes spam and how to avoid spam penalties
How SEO directly effects content and content marketing
How IT departments are affected by SEO initiatives
And much more, plus ample time for questions from the audience
Techniques for Wielding Facebook for Direct Response from Matt Idema
When Idema takes the floor, the conversation will turn to Facebook and how marketers can leverage advanced audience targeting and retargeting ad network. Idema will lay out why Facebook is such a high performing direct response channel for e-commerce.
Pinterest Tactics for Overflowing Traffic from John Rampton
Rampton will discuss advanced Pinterest strategies that will dramatically increase your site's traffic. Best of all, these strategies only call for investing one hour per week.
Register as Our VIP and Stay for the After Party
If you register with the promo code for Bruce Clay, Inc. VIPs you'll get your seat for a steal at $89. For those who want to keep the party going, attendees are invited to a SEJ Meetup from 6:30 to 9 p.m. at the Creamery. Workshop attendees are guaranteed free entry to this sought-after meetup, with a first drink on SEJ! So, will we see you there?
The SEO Newsletter: The End-of-Year Edition
Date: Thursday, 21 Nov 2013 20:11
The SEO Newsletter: The End-of-Year Edition was originally published on BruceClay.com, home of expert search engine optimization tips.
This is one SEO Newsletter you don't want to miss – the End-of-the-Year edition takes stock of this year's four most significant changes; takes a deep dive into the year's biggest buzz word: content marketing; and gets up-close-and-personal with this year's recipient of the Lifetime Achievement Award for Excellence in Vision, Execution and Market Influence: Bruce Clay.
In the feature article, I give readers an exclusive sneak peak at Bruce Clay and PR/visibility maven Murray Newlands' new book, "Content Marketing Strategies for Professionals: How to Use Content Marketing and SEO to Communicate with Impact, Generate Sales and Get Found by Search Engines." In Book First Look: 'Content Marketing Strategies for Pros' Rounds Up Experts, you'll discover more than 30 takeaways from this critical guide that will be available for purchase on Amazon and Kindle later this month. My sneak peek breaks down:
Why this book is the book for any business or brand with an audience online (i.e. you)
What exactly you will learn in each of the ten chapters
Who you will discover among the expert contributors (including Jonathon Colman, Lisa Buyer, Lee Odden, Michael Brito and Andy Crestodina)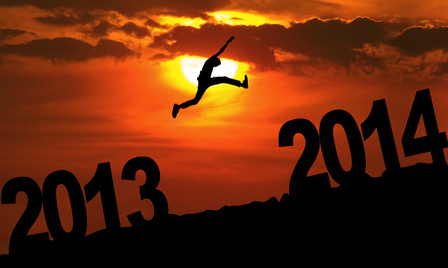 In Four Takeaways That Will Carry Into 2014, Chelsea Adams looks back at four significant changes from 2013 that will continue to affect the way Internet marketers do business in 2014. Learn what to expect in 2014 when it comes to:
Entity search, structured data, and schema's affect on the way Google resolves search queries
The move to secure search and keyword data being 100 percent (Not Provided)
The effect of Google Glass on Internet interaction
Enhanced campaigns and multi-device experiences
In Education Matters, learn about a special, limited engagement one-day training opportunity in San Francisco, featuring Clay and Facebook Director Matt Idema, hosted by Search Engine Journal. Find out how you can win a ticket. In Hot Topics, find out why Clay recently won a Lifetime Achievement Award for Excellence in Vision, Execution and Market Influence. In a special "Attaboys," BCI expresses their prayers and best wishes for Internet marketer, BCI guest liveblogger and friend Dana Lookadoo, who was severely injured in a bicycling accident last week. You know the whole industry is thinking of you with love, support and admiration, Dana!
You can get The SEO Newsletter (filled with SEO, SEM, SMM and PPC news) delivered straight to your inbox every month by signing up here. Interested in past editions? Check out our archives, filled with all this year's newsletters. Since 2004, The SEO Newsletter has delivered industry news to in-the-know Internet marketers.
Content PR Secrets: Optimizing an Event to Attract Media
Date: Monday, 18 Nov 2013 18:58
Content PR Secrets: Optimizing an Event to Attract Media was originally published on BruceClay.com, home of expert search engine optimization tips.
Lisa Buyer is the author of Social PR Secrets, and the following was saved from the cutting room floor of her book's production and lives on in the Bruce Clay, Inc. blog. Here, Lisa instructs businesses how to attain the most media coverage from live events, especially from those influencers watching online. Lisa contributed this piece to Bruce Clay and Murray Newlands' upcoming Content Marketing Strategies for Professionals, a guide for using multi-channel content marketing to reach a targeted audience and meet defined goals, with contributions from the industry's foremost specialists.
Social PR Secrets for Events
Optimizing, socializing and publicizing an event is about enticing attendees, but it's also about attracting and engaging the people who are not attending including the media, bloggers and high-profile influencers.
That concept caught my Social PR eye when I shared a panel at SES London with Digital PR Expert Mel Carson, who at the time was the brand evangelist for the Microsoft Advertising Community. Mel shared a case study of Microsoft Advertising social media marketing strategy that included more than sponsoring and attending conferences, they brought them to life for the people outside the event by live tweeting, blogging, video interviews and capturing and sharing images of the conference, covering the event as on-the-spot journalists; more than just sponsors.
Using social media outlets to report on the company's own branded events or from industry conferences can be an effective Social PR content strategy, helping position yourself as a thought leader for industry news sources.
It boils down to building an online social media news hub around your offline activities, ultimately creating a platform from which your online audience can enjoy and interact with the brand.
A Social PR Event Action Plan
The Microsoft Advertising Community team had been using social media as a vehicle to listen to, educate, support and market to customers and potential customers since 2006.
In the case study Carson shared, they created a robust "on-the-ground plan," which outlined hour-by- hour which sessions they'd be blogging about or tweeting from and a detailed film schedule of interviews with conference delegates and speakers, as well as their own executives.
This all helped to bring the event to life in real-time for the thousands of interested media, bloggers, advertisers, marketers and creatives who could not make the trip.
What was the result? They chalked up more than 40,000 interactions or "brand engagements" with branded coverage. That equates to people reading blog posts, watching videos, browsing photos and engaging with them on Twitter.
Keeping the content relative, insightful and actionable proved a winning combination for Microsoft and can work for your brand as well!  Think about it: news nuggets delivered in innovative ways stick in the mind and resonate with audiences on the social platforms and or mobile devices they feel most comfortable using and at a time most suitable for them. Here are some forms of live, from the action content that a business can utilize:
Live tweeting
Live blogging
YouTube video interviews of speakers and industry experts at different events
Instagram reports of speakers with key messages
Pinterest – creating a board for the conference and pinning relevant coverage from industry sources
Images shared on Facebook, Instagram, Pinterest and Tumblr
In using the above content types to promote your event before, during and after, keep these things in mind:
Basically you are news jacking your event — whether it is a conference, grand opening event or product launch or start the process before, keep it going at the event and carry on after.
Leverage your social media platforms on brand publications to showcase event/industry influencers as part of your event content strategy of your blog our brand newsroom.
Create infographics with fun facts about your event/
Post event create strong visuals using slideshows to tell the story of the event.
Optimize all social content with appropriate hashtags, keywords and links to reap the full benefits.
In Microsoft's case study, they didn't just consider Facebook or Twitter when promoting one of Microsoft's newest product, because they considered the entire Internet as part of the social and mobile media landscape.
"The way I see it, social media is the Internet," Carson explains, "The Internet is inherently driven by social and now navigated by mobile."
Using a "social veneer" across all platforms:
Carson suggests blogs and search, and pretty much anything you can find on the Internet that has a social component to it, are all valuable tools in your next Social PR campaign. Rather than considering different platforms as individual elements, apply a "social veneer" to your entire online public relations campaign, whether it be on mobile, television or the Internet.  Instead of limiting your focus on how to use social media in your next PR campaign, think broader and use the entire Internet experience, incorporating multiple platforms, in order to really make your public relations campaign stand out.
Bringing the event to life / optimizing Social PR for the event:
"Your goal should be to bring the event alive for your global audience," Carson states. You do that by creating excitement by posting content before the events even start. "Once there, make it your goal to connect to your Internet audience with lots of blogs, tweets, and photographs." In Social PR, the ultimate goal is to get your audience to share your content with others, ultimately growing your own brand. It's up to you how to make that happen, and to make sure you provide the mechanism for them to share your content.
Keying in on social interaction KPIs:
Brand interaction is a key metric Social PR pros can use to determine each campaign's reach. Every tweet and every comment, like every video viewing related to a particular event campaign. can be added up as an early indicator of how many people have interacted with your brand. Furthermore, this gives you a target audience for your next campaign or product launch. In Carson's experience, once you hook these people in, they'll rarely unfollow you if you deliver a rich content experience to them.
Strategically curating images and videos to publicize events creates a Social PR library and historical timeline. Today there is no shortage of mobile cameras, but it makes sense to invest in professional photography and videography for every event.
The Social PR Secret:
When putting together a presentation or event, don't just think of the people in the room. Rather, every tweet, blog, image or video you post online is for the media, bloggers and people who couldn't make it. Keep in mind this person that could not make it could be a top-tier columnist, influential blogger or industry reporter looking for expert sources, or a prospect who is looking to research. Either way you are starting to build relationships.
How Ray Ban is Using Music, Architecture and the Human Experience to Sell Sunglasses
Date: Thursday, 14 Nov 2013 23:29
How Ray Ban is Using Music, Architecture and the Human Experience to Sell Sunglasses was originally published on BruceClay.com, home of expert search engine optimization tips.
I love when I come across a utilitarian brand like Ray Ban who, despite selling a product that doesn't naturally lend itself to content creation (who wants to read dozens of articles about sunglasses?), has a content marketing strategy that is engaging, memorable, and, more or less, killing it.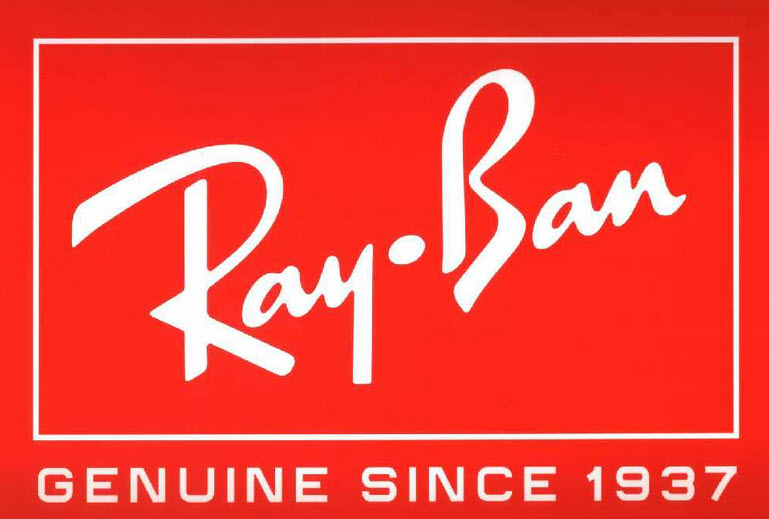 The trick? Excellent storytelling that aligns the brand with the target market's deeper interests. Or — in Ray Ban's case — using music, architecture and the human experience to sell sunglasses.
Here are two takeaways from Ray Ban's content marketing strategy that we can all learn from.
Lesson One: To Make an Impact, Create Content Based On Your Audience and What Motivates Them
If you want your content to be remembered you have to spark an emotional response. To do this you need to pick a target market, get to know them inside and out, and then align your brand with your target market's deeper interests.
What do they want?
And not just what do they want content wise. The trick is to think beyond that. What do they want out of life? What do they want to do on the weekend? What do they want to wear? What do they want to know more about? What do they want to be when they grow up?
I'm not part of Ray Ban's persona research team, but based on the content they're creating I'd say the Ray Ban market is motivated by:
Creative expression including music, film, photography, and architecture
Travel
A longing for inner purpose
Vanity (IE: Taking selfies and looking cool. It's subtle, but I'd peg a good chunk of the crowd as closet narcissists. No offense Ray Ban-ers; it's human nature.)
To tap into their market's inner desires, interests, and wants, Ray Ban has aligned itself with an overarching theme that allows them to use content that has nothing to do with sunglasses to sell sunglasses.
It sounds crazy, but when done right – as Ray Ban has done – it really works.
For Ray Ban, the overarching theme that associates them with the inner desires of the market is "Never Hide." Which – in addition to "be an extrovert and show off how awesome you look in those sunglasses" – they translate to mean be yourself; tell your story; "stay true to your vision" and find your "purpose in life" as they put it in one landing page.
This theme is emotive, memorable, and the heart of what makes it possible for Ray Ban to use engaging stories about architects to keep consumers on their website. It's the embodiment of them reaching beyond the surface level – beyond "wear sunglasses!" – to get in touch, deep down, with what really motivates their market.
Lesson Two: A Strategy Driven By Storytelling Doesn't Mean You Need To Write Very Much At All
Ray Ban has done an excellent job aligning their brand with the art of storytelling. They've even used the word "stories" to describe the content section they've created on their website in lieu of a blog.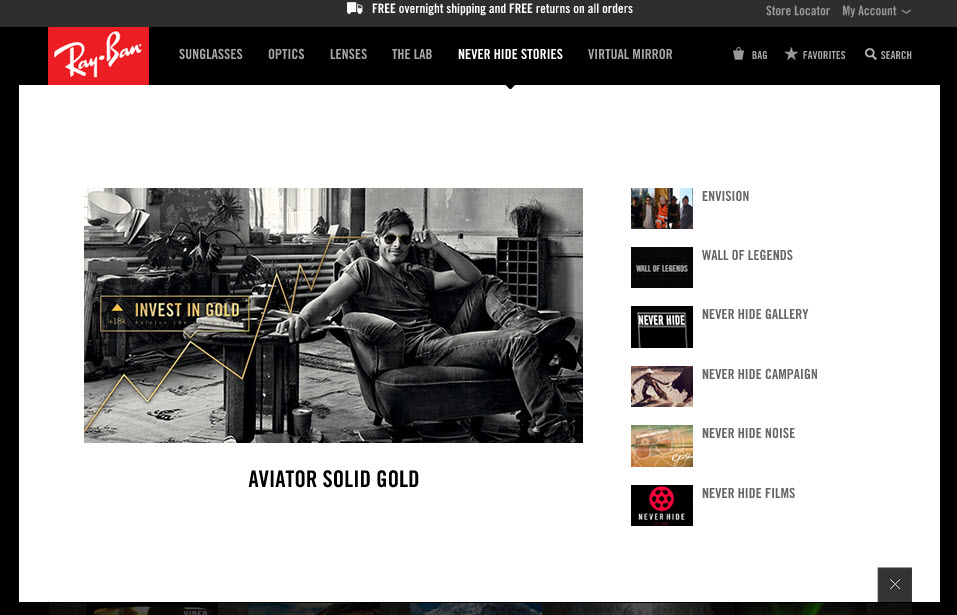 They approach storytelling in four ways:
By associating themselves with these characters and stories (both real and fictional), the personality of the characters and the qualities of their stories naturally contribute to the collective story of Ray Ban.
Here's an example of how it works with a photographer's story:
Ray Ban has included the story of iPhoneographer Cesar Kuriyama on their website. It's pretty cut and dry; Cesar talks about what motivates him and what he finds interesting, and Ray Ban edits his story into a 1.5-minute YouTube video. The video ends with the words "Never Hide" and the Ray Ban logo, and in the video Cesar wears Ray Ban sunglasses while he does his thing. Cesar is cool, forward thinking, inspired, inspiring, which — since they shared his story on their website — makes Ray Ban cool, forward thinking, inspired, and inspiring by association. By using Cesar's story as support for their overarching theme, Cesar's story then becomes part of Ray Ban's story. And since Cesar's story is memorable and emotive, Ray Ban's story becomes memorable and emotive.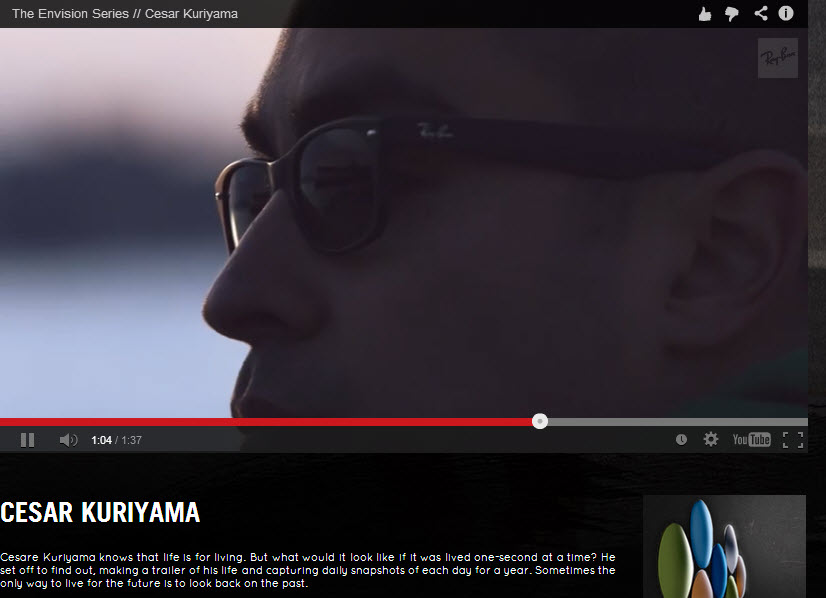 Replace Cesar with Ray Ban's Polarized concert series and its associations, a fictional character from one of their Never Hide print campaigns, or any one of the Ray Ban followers who have submitted user generated content and you get the same affect. The stories told through Ray Ban become part of the collective Ray Ban story.
Really, It's Not about the Product. It's about Building a Story Around the Product.
Ray Ban doesn't have a blog. They don't write 300-1000 word articles that include keyword phrases. They don't really write about sunglasses, even. They don't create this kind of content because that isn't the type of content that keeps their audience engaged.
It's all goes back to aligning the content you create with the needs of your target market and their deeper interests.
Remember: Your product is not just sunglasses, or baby food, or toilet paper, or car insurance, or online marketing.
Find both your target market's deeper purpose, and don't be afraid to let the community who represent those interests help you tell your brand story.
It's working for Ray Ban.
What is Klout? What is Kred? 3 Ways to Wield Social Influence Scores for Improved Online Interactions
Date: Wednesday, 13 Nov 2013 17:12
What is Klout? What is Kred? 3 Ways to Wield Social Influence Scores for Improved Online Interactions was originally published on BruceClay.com, home of expert search engine optimization tips.
Social influence scores (also known as social authority scores) are a measurement of an individual or brand's reach online. Klout, established in 2009, and Kred, established in 2011, are two of the apps that that brands and individuals use to measure that reach and influence across social channels.
Influence is determined with a myriad of engagement factors, including shares, mentions, likes, retweets, number of followers and quality of followers. It's not, however, a race for followers – a high Klout or Kred score comes from quality of interaction, not quantity of interaction.
According to Klout, "Posting a thousand times and getting zero responses is not as influential as posting once and getting a thousand responses. It isn't about how much someone talks, but about how many people listen and respond."
High Social Influence Scores = More Backlinks
What's more, there appears to be a direct correlation between a high social influence score and number of backlinks – the higher the Klout score, the more backlinks to that user's site. Mitt Ray (founder of Social Marketing Writing) mapped this out in a recent study.
What is Klout? Fast Facts
Pulls data from Twitter, Facebook, LinkedIn, Wikipedia, Instagram, Bing, Google+, Tumblr, Foursquare, YouTube, Blogger, WordPress, Last.fm, Yammer and Flickr
Klout's algorithm, PeopleRank, has more than 400 signals
A user's Klout Score falls on a 100-point scale
Users with Klout Scores of 63 and above are in the top 5 percent of users
More than 400 million individuals use Klout
More than 200,000 businesses use Klout
Score is measured using data from the past 90 days
What is Kred? Fast Facts
Pulls data from Twitter and Facebook
A user's Kred influence score falls on a 1,000-point scale
Users with Kred influence score of 600 and above are in the top 21 percent of users
Kred also provides a separate scoring of "outreach level" (on a 10-point scale) that "reflects generosity in engaging with others and helping them spread their message," i.e., a user's retweets, replies and mentions of others.
Users can view their Kred influence score and outreach level scores globally (Global Kred) or by interests/affiliations (Communities)
Influence scores and outreach level scores are measured with data from the past 1,000 days
Transparent scoring system
Increasing Your Social Score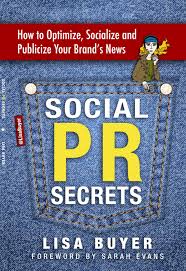 In an interview, Lisa Buyer (president and CEO of The Buyer Group, an interactive PR, social media and branding agency) asserted that people are paying more and more attention to social media scores. That's why she devoted an entire chapter to Scoring Influence in her latest book, "Social PR Secrets." When it comes to increasing your social influence scores, she recommends a three-pronged strategy:
Build a relevant network.
Have a compelling content sharing strategy.
Systematically engage influencers who can push your content virally.
That last point is especially salient, considering the fact that "somebody with a higher score of influence sharing your content is going to increase the number of social signals that search is receiving."
According to Buyer, practical application of this strategy involves:
Sharing seven days a week.
Maintaining visibility on Facebook, Google+ and Twitter.
Interacting with influencers.
Use photos in your posts to make a visual impact.
Build up your friends and followers, as this leads to a larger network of opportunity.
Participate in relevant Twitter chats to increase your reach.
Stay on topic; share only the content you want to be associated with.
Using helpful tools like Buffer.
3 Ways to Wield Social Influence Scores
Assessing the data provided by Klout and Kred allows you to track the progress you're making in your social media efforts.
Use Them to Measure Your Own Influence
With a bird's eye view of your social activity across platforms, determine what actions have led to the most gains and where you can still improve.
Use Them to Size Up Your Competition
Determine who your competitors are and analyze what they're doing socially. What scores have they earned? How do your followers compare to theirs? How many times are they posting? What networks are they on? Audit their social activity alongside your own to determine what they're doing right (and wrong) and use it to shape your own strategy.
Use Them in Making Hiring Decisions and Selecting Guest Bloggers
A social influence score alone shouldn't determine who you hire, but it can mean the difference between getting an interview or not getting an interview. As Buyer explained, "It's a way to gauge how serious somebody in a certain space (is or …) how influential they are in a certain industry."
Social influence scores can also come in handy when looking for a guest blogger. "If you're going to outreach to a blogger to cover a story, a blogger with a higher social score is going to have more of an influence and impact," Buyer said.
When it comes to a new hire or a guest blogger, brands are "starting to pay attention to who has clout and those are the people they are going to want on their side."
What are your social influence scores? Check them out on Kred and Klout, and while you're on Klout, make sure to connect with BCI on Klout.
2013 SEMPO Salary Survey Results Now Available
Date: Tuesday, 12 Nov 2013 19:44
2013 SEMPO Salary Survey Results Now Available was originally published on BruceClay.com, home of expert search engine optimization tips.
After nine months of data collection, the SEMPO and ClickZ 2013 Salary Survey results are in. An annual endeavor, the 20-question survey asked 2,180 in-house and agency digital marketers to discuss their careers including questions on background experience, salary, responsibilities, internal policies, budgets, and compensation perks.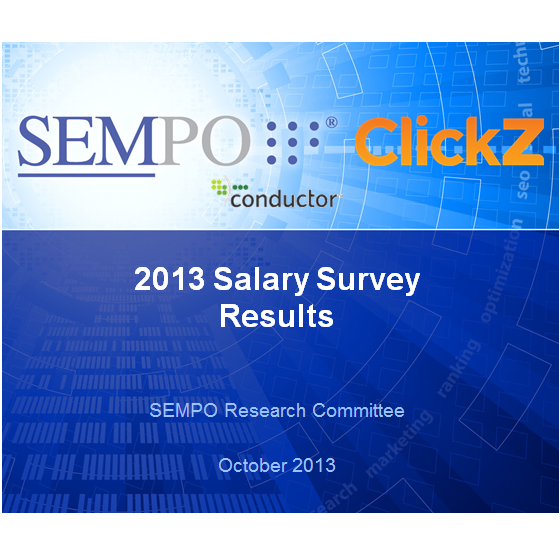 The data collected — which is presented in a series of bar graphs, pie charts, and word clusters accompanied by summary text — gives employers and employees a tangible way to answer these two questions: "What's the health and landscape of my industry?" and "how to do I fare against the competition?"
"Organizations need to establish competitive and effective compensation plans, so it is important for them to have quality information about what others are paying for employees in similar positions. […] It's also a great barometer for discovering whether the industry is confident about the coming year." said Melanie White, Special Projects Editor at ClickZ.
Some interesting takeaways from the survey:
From 2011 to 2013 the average salary across the board has decreased from $75, 543 to $68,600.
Holistic marketing that includes a combination of organic and paid has grown by 11%.
64% of respondents say they report up through the marketing department rather than to a search or IT department.
If you are a SEMPO member, you can download the 2013 Salary Survey on SEMPO.org. If you are not a member, you can check out the 2011 Salary Survey results for free, or contribute to the cause by participating in the 9th annual State of Search Survey which will be open for participation through November 15, 2013.
6 Reasons You Should Take the SEMPO State of Search Survey
Date: Thursday, 07 Nov 2013 17:51
6 Reasons You Should Take the SEMPO State of Search Survey was originally published on BruceClay.com, home of expert search engine optimization tips.
"Would you like to take this survey?"

If you're asking me from outside of Whole Foods: No.
If you're @SEMPOGlobal and it's the annual State of Search survey: Yes!
The State of Search survey is open to anyone who considers themselves a digital marketer (no SEMPO membership required) from now through November 15, 2013. I took it and you should too. To take the survey, head to SEMPO.org to participate in the re-envisioned 2013 State of Search survey.
If you need convincing, here are five reasons why I always participate in the State of Search survey, and why you might consider participating this year:
(Disclaimer: Let it be known that I am not a SEMPO member, but Bruce Clay is on the SEMPO board. That said, his SEMPO prestige does not affect my reasons for endorsing the SOS survey.)
1) Get access to the data for free!
The most recent SEMPO surveys are only available to members, and to those who participated in the survey. In other words, you must complete the survey to be given free access to the in-depth report, which SEMPO says would otherwise cost $695.
2) The data supplied in the report is top of the line (and I like to be a part of the process).
The annual State of Search survey analyzes in detail how digital marketers are allocating budgets and reacting to paid, social, email, mobile, and organic marketing trends and technology shifts. The result is a thorough market valuation report that reveals where the industry is, where it's come from, and — based on the reported actions and predictions of the participants — where it's going.
This survey is a great big-picture resource that can help digital marketers gain a better understanding of both the challenges and the opportunities that are right under their noses.
For example, in the 2012 survey respondents pointed to ROI reporting and cross-departmental integration as two problem areas that could use improvement. It will be interesting to see whether the problems expressed in last year's survey are still prominent, or if they've been replaced (with or without resolution) by fresh ailments in 2013. (To read more about what the Bruce Clay team was able to glean from the 2012 report, revisit our blog post "A Look into the State of Search Marketing 2012.")
3) All answers given are kept strictly confidential and presented only in aggregate form.
4) It's my civic duty as a search marketer to help paint the most accurate industry landscape possible.
In order to present a true-to-life landscape of the search marketing industry the survey needs to take into consideration real answers from real digital marketers — like you and me. So, if you want your ailments, achievements and general input to be represented, you need to show up and represent yourself!
5) It doesn't take very long.
The survey has five sections with an average of eight questions per section. There's no essay portion and you won't be graded.
6) Win an iPad!
By completing the survey you will be automatically entered to win a new iPad 3, courtesy of @SEMPOglobal. (Who doesn't want a new iPad…?)
To take the 9th annual State of Search survey be sure to visit the Current State of Search Survey portion of SEMPO.org between now and November 15, 2013.
You may also be interested in checking out the results of the 2013 SEMPO and ClickZ Salary Survey, which is now available for SEMPO members or survey participants to download at SEMPO.org.
#SESCHI Bad*ss Blogging: Best Practices to Enhance Your Customer Reach
Date: Thursday, 07 Nov 2013 17:38
Twitter Chats: 3 Reasons You Should Be in #SEOchat (Thursdays at 10 a.m. PST)
Date: Thursday, 07 Nov 2013 17:30
Twitter Chats: 3 Reasons You Should Be in #SEOchat (Thursdays at 10 a.m. PST) was originally published on BruceClay.com, home of expert search engine optimization tips.
A Twitter chat (also known as a tweet chat) is an opportunity to engage with people around the world on a particular topic. It's like a chat room – except responses are limited to 140 characters, always include a relevant hashtag and tend to move at lightning speed. BCI endorses Twitter chat participation, especially participation in #SEOchat, where you can find us weekly.
#SEOchat
Each Thursday, in-the-know Internet marketers participate in #SEOchat at 10 a.m. PST. Each week, #SEOchat is hosted by a renowned digital marketer. Recent topics have included:
As part of our commitment to thought leadership and knowledge transfer, BCI participates in #SEOchat each week, sharing insights and engaging with the SEO community. Wondering if #SEOchat is for you? Here are the three reasons we believe #SEOchat – or any Twitter chat, for that matter – is a worthy investment of your time.
1. Immediacy
If you have an SEO concern that you've been troubleshooting to no avail, #SEOchat puts you in a forum where you can reach out to other SEOs and get their insights – immediately. All participants in #SEOchat have set aside this window of time for this explicit reason. A community of dedicated peers is on standby – take advantage of their knowledge, experience and insights.
2. Strength
In the same way that you're able to ask questions, you're also able to answer questions and share your own experiences. It's a win-win — potentially, you can position yourself as an expert and strengthen your own brand voice while giving back to the SEO community in the form of knowledge.
3. Connection
When you routinely participate in Twitter chats, your network will grow as you interact regularly with industry peers. In addition to fostering engagement, those connections prove valuable in any type of outreach, including strategic partnerships.
Tomorrow, #SEOchat will be hosted by Internet marketing consultant Paul Thompson. The topic of discussion will be SEO planning in 2014 after the latest algorithm changes. Join Thompson, BCI and other Internet marketers in this discussion at 10 a.m. PST. BCI will also be participating in #KloutChat immediately after at 11 a.m. PST – a monthly chat devoted to Klout users looking to learn more about social influence.

Twitter Chat Tip: Use a Platform like Twubs
Twubs is a helpful platform when it comes to participating in a Twitter Chat. Users will have a full screen display of all #SEOchat hashtags (or whatever Twitter chat you're participating in), and all your tweets will automatically include the relevant hashtag. You can also see all participants on the right under Contributors.
BCI is always listening — connect with BCI at @BruceClayInc. You can also connect with me personally at @KristiKellogg — let's get social.
What Scares an SEO? BCI Goes All Out for Halloween
Date: Thursday, 31 Oct 2013 22:19
What Scares an SEO? BCI Goes All Out for Halloween was originally published on BruceClay.com, home of expert search engine optimization tips.
It's Halloween and everybody's feeling festive, including BCI. Skilled as he is at wrangling the search industry's most famous Penguin, Panda and Hummingbird, it only made sense that Bruce Clay dress up as a circus ringmaster — that and that fact that "someone has to wrangle all of these clowns," he said (joked?).
"Halloween has been a part of our company culture since its inception. It's an opportunity to do what you don't normally do and be creative outside of the box, and to just have fun with the people you work with." — Bruce Clay
The people at BCI are, indeed, having fun. Costumes around the office include a life-size taco, Princess Leia, Pocahontas, Gumbie, a terrifying clown, a giant baby, a cruise director, a gaucho, Indiana Jones and even the PBS painter, Bob Ross.
Check out all the costumes in our Flickr set:

What Scares an SEO?
In keeping with the Halloween spirit, I asked the BCI team "What scares an SEO?" This is what they had to say:
"Google." – Maryann Robbins
"The disappearance of analytics." – Matthew Young
"Automated/spun content. Purchased links. Rapidly approaching deadlines. And spiders – real spiders, not the search engine types." – John Alexander
"A client who is not yet converted to the BCI methodology." – Luke Bowen
"Waking up one morning to find all the rankings have tanked and not knowing why." – Paula Allen
"Manual action penalty from Google causing rankings and organic traffic to vaporize." – Ty Carson
"I'd think a swarm of Cuttletts would be pretty frightening. You'll know what this means if you've ever been to a search marketing conference." — Virginia Nussey
"Negative SEO – that's kind of frightening, because no matter what you do, there could be negative forces out there working against you." – David Vasquez
"Having a client tank in the rankings." – Robert Meinke
"The most frightening thing for an SEO is finding all your clients top keywords sandboxed to page three." — Bradley Leese
"Manual penalties." — Michael Shore
"Not getting a client to rank when they think they should." – Gary Luke
"The inability to implement due to technology constraints" — Robert Esparza
"Bad developers and splogs" — Micah Albert
"Link pruning." — Nagmeh Jafazadeh
"Clients who make changes to their websites without consulting with us. Especially dramatic changes like a homepage redesign." — Rob Ramirez
"A sudden newsflash across the Internet that Google has made a significant update." — Justin Moreau
What Scares Bruce?
"The future of search can be scary when you start to wonder if Google will just take over and cause no one to ever need a website again. Clients that don't understand SEO can often be pretty scary," Bruce said.
But SEO itself? Bruce isn't intimidated: "I personally don't find SEO itself scary – Hummingbird wasn't scary, Penguin wasn't scary, Panda wasn't scary. Those things don't scare BCI."
Bruce's fearlessness is in part, no doubt, why he was listed as one of Search Engine Journal's "SEOs Halloween Assemble: The League of Extraordinary SEO." SEJ chose Bruce for the role of "Sub-Mariner" due to his status as an SEO founding father, his myriad speaking engagements and his thought-leadership (documented in countless magazines, newspapers and books).
What scares you? Share your worst SEO nightmare in the comments!
Get to Know Bruce Clay — Lifetime Achievement Award Illuminates a Long History in Tech
Date: Wednesday, 30 Oct 2013 16:34
Get to Know Bruce Clay — Lifetime Achievement Award Illuminates a Long History in Tech was originally published on BruceClay.com, home of expert search engine optimization tips.
"Today's thought leaders were influenced by him," Mark Knowles said about The History of SEO advisory board's criteria when looking for a major SEO influencer and leader. The clear choice was Internet marketing veteran Bruce Clay.
Fondly known to the search marketing industry as a founding father of SEO, Bruce received the Lifetime Achievement Award of Excellence in Vision, Execution and Market Influence in the Practice of Search Marketing. As founder and president of Bruce Clay, Inc., a global Internet marketing agency founded in 1996, he accepted the honor earlier this month at the annual digital marketing conference Bend WebCAM in Bend, Oregon.

Created with Haiku Deck, the free presentation app for iPad
Everyone who works with Bruce knows a man whose passion for the business of SEO runs the full spectrum. Bruce gets a thrill from the technical workings of algorithms and the science of gaining rankings. Bruce has a knack for listening to the stories of business owners and matching their needs to creative solutions. Bruce is a people person energized by the larger-than-life personalities that fill industry gatherings — his own to be counted among them. And every person who has ever worked at Bruce Clay, Inc. knows that Bruce cares for employees like family and takes a deep and genuine interest in supporting their personal and professional success. And so we compiled the above slideshow to showcase some of Bruce's personal side.
Bruce Clay SEO Milestones
1996 – Started his Internet marketing agency, Bruce Clay, Inc. out of his house
1998 – Welcomes Google to the search party
1999 – He was a speaker at the very first Search Engine Strategies
2000 – Company moved out of his house and started first SEO training classes
2001 – Developed the first SEO Code of Ethics
2002 – Introduced and invented siloing, a website architecture hierarchy
2004 – Published first company blog and SEO newsletter
2007 – Opened offices in South Africa, Australia and the UK
2008 – Makes the Inc 5000 list of fastest growing company in the U.S.
2009 – Bruce Clay, Inc. opened an office in India and became the official SEO training course for several national and international Internet marketing conferences
2010 – SEOToolSet version 5 released, more than 1000 people received training from Bruce Clay, Inc.
2011 – Opened an office in Brazil
2012 – Inc 5000 lists Bruce Clay, Inc. for the sixth year in a row
2013 – Bruce Clay is honored with a Lifetime Achievement Award for Excellence in Search Marketing from the History of SEO advisory board
Impressive Accomplishments Before and Since SEO
If you ask Bruce Clay, SEO is not a job, it's a way of life. But before the World Wide Web and Internet marketing, you could find Clay at the intersection of computer science, networking and operating systems, even implementing the first touchscreen networks into the restaurant industry. Today he is known as the CEO of SEO and travels the world training C-suite executives and search marketing professionals on SEO best practices.
Mark Knowles, chair of the History of SEO advisory board that selected Clay, revealed that selecting Clay was an "easy decision," calling him a "legendary pioneer." When determining the Lifetime Achievement Award winner, the advisory board looks for someone who has impacted the SEO industry from the start, Knowles said, and that Clay has contributed significantly to the SEO industry's growth and development.
"Today's thought leaders were influenced by him," Knowles said.
Clay called this award a "major event in the history of Bruce Clay, Inc." and said "It is definitely an honor to receive any award for service to the industry. I have always tried to contribute either through the website, training, event speaking, and frequent free advice. Being available, approachable and involved is clearly appreciated by colleagues, and it is really nice that my efforts have been broadly appreciated. I am truly excited that I have joined the few that have already received this prestigious award."
Past recipients of this award include Danny Sullivan, Search Engine Land editor-in-chief, and John Audette, senior vice president of the Internet marketing company Rimm-Kaufman Group (formerly AudetteMedia).
Why Use Twitter: A Journalist's Defense
Date: Tuesday, 29 Oct 2013 20:35
Why Use Twitter: A Journalist's Defense was originally published on BruceClay.com, home of expert search engine optimization tips.
At some point, you've probably heard Twitter labeled as shallow, vapid, useless, etc. — I know I've heard as much. And certainly, Twitter has its silly moments, but it is also a powerful platform — especially for a journalist, who has many of the same goals as a publisher. As a journalist, I'm sharing exactly how and why I wield Twitter as a part of my job for businesses curious about the usefulness of this social media tool for their own online brand building efforts.
1. Twitter lets you put your articles in front people who want to read them.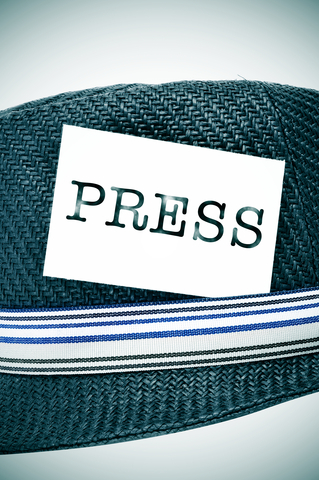 Building a personal brand — or the business of marketing yourself — is an advantageous pursuit for any journalist. A journalist's goal is not to write articles that nobody reads. She investigates and interviews so that as many people as possible will read — and ideally benefit from — her work. She doesn't write (nor does she get paid) for her articles to exist in a vacuum. Articles are meant to be shared, spread and read. Why would a community-minded journalist not share links on a social network with more than 218-million users, read: potential readers?
By strategically using Twitter (linking to her own content as well as other relevant content; engaging with her followers; sharing pertinent 140-character musings), she aims to build up her Twitter followers — and consequently her readership — over time.