» Publishers, Monetize your RSS feeds with FeedShow: More infos (Show/Hide Ads)
Updated robots.txt status
Date: Wednesday, 26 Apr 2006 16:40
Thanks to our users for alerting us to an issue with incorrectly reporting that sites and Sitemaps were being blocked by robots.txt files. We have resolved this issue. If you were unable to add a site or Sitemap because of this issue, you should now be able to add them.

If Sitemaps was reporting that your home page was blocked by robots.txt, you should soon see an updated status. Thanks for your patience as we refresh the display of this data.

If we were incorrectly reporting that your robots.txt file was blocking your Sitemap, you will see an updated status the next time we download your Sitemap.

Thanks as always for your valuable feedback.
A whole new look and a lot more
Date: Wednesday, 26 Apr 2006 11:32
If you log in to
Sitemaps
today, you'll notice some changes. We've revamped the interface based on your feedback to make your account easier to use. There's more below on the facelift, but first, here are details about the new features we've added.
Since the Google Sitemaps program is built on the idea of two-way communication between Google and webmasters we hope this update gives you as much information as possible to help you debug your site and help ensure it is crawled and indexed as effectively as possible.
New verification method
Many features of Sitemaps are available only to site owners. Some of you aren't able to use our existing verification method, so
we asked for your feedback
on an alternate method of
verification that uses a meta tag
on the root page of your site. The response was overwhelmingly positive, so we've added this method as an option.
To verify ownership of your site using this method, simply click the Verify link for your site, choose Add a META tag as the verification option, and then copy the tag provided to the <head> section of your home page. Once you've done that, select the checkbox and click Verify. We'll post something soon with more details about this.
Indexing snapshot
The new Summary page provides a quick snapshot about the state of your site, including:
If site is in the index
When Googlebot last accessed the home page
If some pages of the site are partially indexed
If the home page is currently inaccessible
If Googlebot has encountered a large number of errors when trying to crawl the site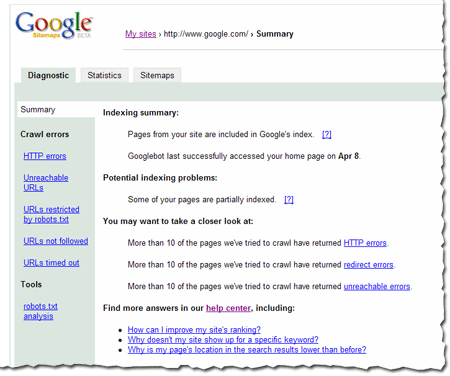 Notification of violations of the webmaster guidelines
We may use the summary page to tell you if a site has violated the
webmaster guidelines
so you can correct the problems and request reinclusion.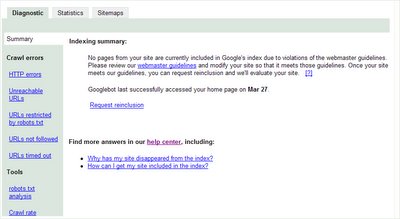 Reinclusion request form
The reinclusion request form is available once you sign in to Sitemaps. Simply sign in, click the link, and fill out the form. This form is also available from the Summary page for sites that show violations. Remember, if your site hasn't violated the webmaster guidelines, there's no need to submit a reinclusion request.
Spam report
The spam report form is available once you sign in to Sitemaps. This form is already available outside of Sitemaps, but we wanted to make it available inside as well for two reasons: so that all tools you need for the Google index are available in one place, and because reports that come from within Sitemaps are from users who are signed in, so your report may receive more in-depth consideration.
New webmaster help center
We've launched a new
help center for webmasters
as a central place for comprehensive information. It includes the webmaster guidelines and details on Googlebot, crawling, indexing, and ranking--plus information about using Sitemaps. It includes all of the information that was previously located at www.google.com/webmasters, as well as much of the information that was located in the Sitemaps documentation. Over time, we'll be adding more information to the help center to answer any questions you might have.
Throughout your Sitemaps account, you'll notice a [?] link in places where additional information is available. Simply click the link to access the help center.
More about our new look
We want Google Sitemaps to be easy to use for everyone. You may notice that a few things have moved around. For instance:
Adding a Sitemap
To
add a Sitemap
, first add the site. Then, click the Add a Sitemap link beside the site on the My Sites page. To add more Sitemaps for that site, just access the Sitemaps tab for the site and click Add a Sitemap there.
Navigating the tabs
You'll notice that the tabs have changed a bit. When you access a site, you'll see the Summary page of the Diagnostic tab. All the information that used to be under the
Errors tab
and the
robots.txt tab
is available from the Diagnostic tab as well. The Statistics tab contains all the pages that were under the Stats tab and the Sitemaps tab has remained the same. You won't see a Verify tab, but the Verify link is available from the My Sites page and the Diagnostic and Statistics tabs.
Back from Pubcon
Date: Friday, 21 Apr 2006 15:59
We had a great time meeting with webmasters and talking about Sitemaps at
Pubcon
in Boston. We value feedback and suggestions, and appreciate our
Google Group
posters. But it's great to be able to talk to webmasters in person too. For those of you who couldn't be there for in-person conversation, here's a recap of the top three questions we were asked.
What's the best way to go about changing domain names?
We've done two blog posts about this that you might find helpful:
Do you have any advice for using a robots.txt file?
We have
lots of advice
! And if you are thinking of creating a robots.txt file for your site or modifying your existing one, be sure to check out the
Sitemaps robots.txt analysis tool
so you can test how Googlebot will see your file.
Can you look at my site and tell me how to get better ranking and indexing?
I sat in on the
Organic Site Reviews
panel, where the panelists were giving out lots of great advice about this. Check out my
guest post
in Matt Cutts' blog for the highlights.
Thanks to everyone who came up to say hello. And thanks for all the great questions and feedback.
Join us for lunch!
Date: Monday, 17 Apr 2006 09:02
If you're planning to be at
PubCon
in Boston this week, join us for lunch with Googlers on Tuesday at 12:50. We'll be talking about how to get the most from your Sitemaps account and answering your questions. Hope to see you there!
More third-party tools
Date: Sunday, 16 Apr 2006 16:11
We've just updated our list of
third-party tools
that support Sitemaps. Check it out if you're looking to create a Sitemap.
We appreciate the support of the Sitemaps community and all the hard work that has gone into development of these tools.
Using the lastmod attribute
Date: Friday, 14 Apr 2006 16:12
With our
recent infrastructure changes
, we've made some minor changes in how we process the
lastmod

attribute
. If you omit the time portion, it defaults to midnight UTC (00:00:00Z). If you specify a time, but omit the timezone, you'll get an invalid date error. You'll also get an invalid date error if you specify an invalid date or time (like February 80th) or the date isn't in the correct format. You'll no longer see errors associated with future dates.
Dates must use
W3C Datetime encoding
, although you can omit the time portion. For instance, the following are both valid:
2005-02-21
2005-02-21T18:00:15+00:00
Previous page
»
You can also retrieve older items :
Read
» © All content and copyrights belong to their respective authors.«