» Publishers, Monetize your RSS feeds with FeedShow: More infos (Show/Hide Ads)
Links for 2014-07-13
Date: Sunday, 13 Jul 2014 14:24
Quick links to a few items I found interesting.
Nowcasts of GDP. Want to know what the latest economic releases imply for the current quarter's GDP? The Federal Reserve Bank of Atlanta is now making publicly available the forecasts from its GDPnow model which is updated with each new economic release. The July 10 inference is that we might see 2014:Q2 GDP come in at a 2.6% annual growth rate. Private-sector services like Now-casting.com provide estimates based on alternative models for a number of different countries.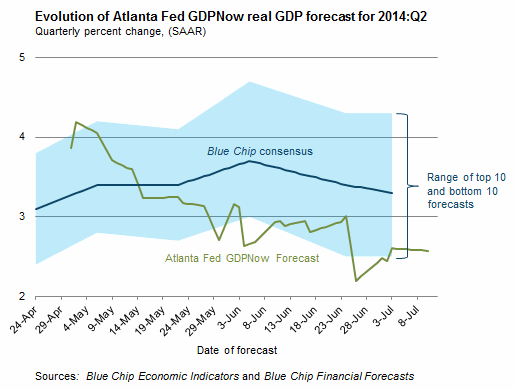 Missy Hamilnook reflects: "Play is the work of the young child." Read Susan Medley's review of the book or order from Amazon.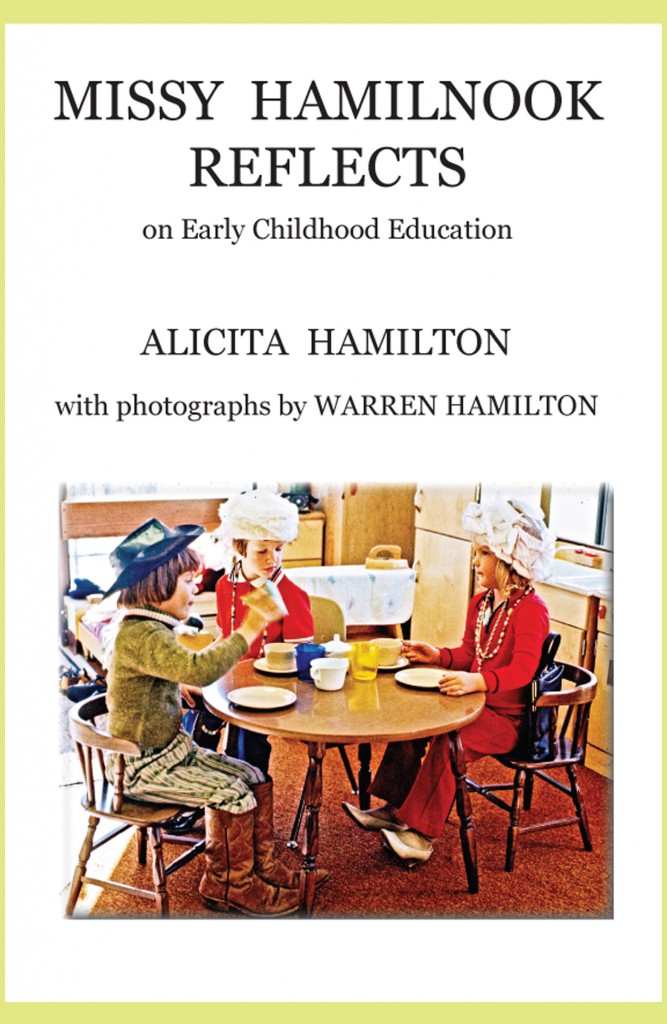 Meeting Menzie Chinn. Most people are surprised to learn that although Menzie and I have been working as a cyberspace team and have been in nonstop email communication with each other every week for the last 10 years, we had never met in person until this week. Fate finally brought us together in non-cyberspace reality when we converged in Boston for seminars and discussions hosted by the National Bureau of Economic Research. Photo courtesy of University of Houston Professor David Papell.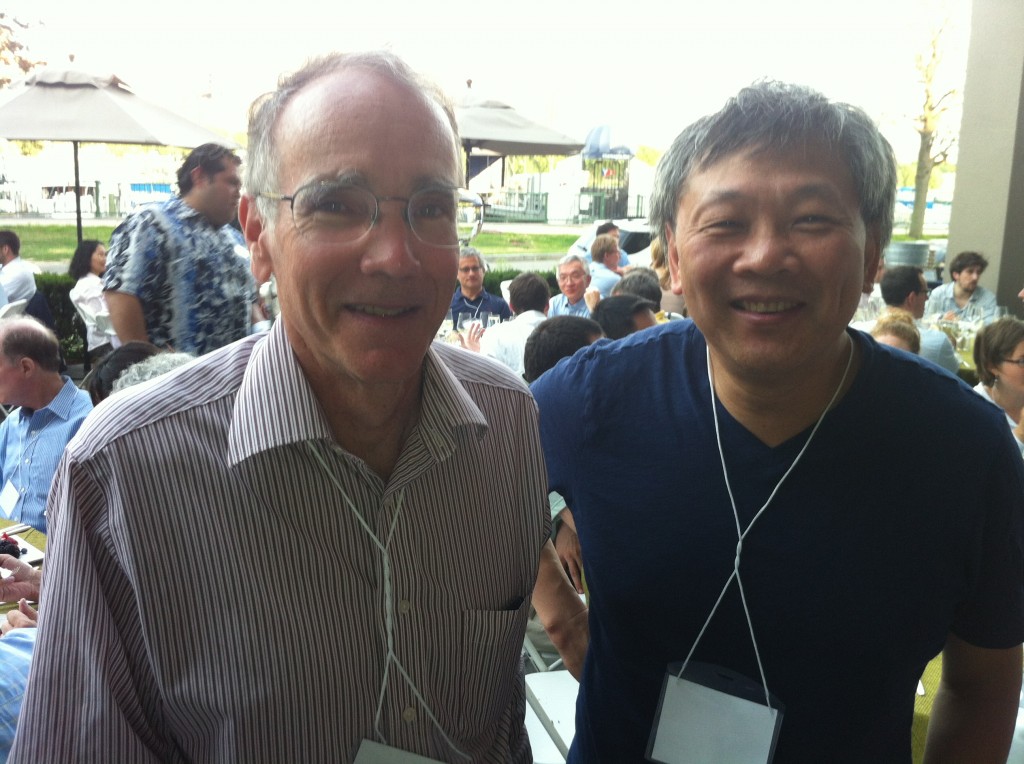 Russia Stalls
Date: Thursday, 10 Jul 2014 11:50
From Reuters today:
Russia's economy is stagnating as data showed on Wednesday that capital worth $75 billion has left the country so far this year following sanctions on Moscow over its involvement in Ukraine.
"We have for now a period of stagnation, or a pause in growth," Deputy Economy Minister Andrei Klepach was quoted as saying in an interview where he also said that GDP was flat from April to June after shrinking 0.5 percent in the first quarter.
Here are some indicators of stress from political uncertainty, from the IMF's recent Article IV report on the Russian Federation.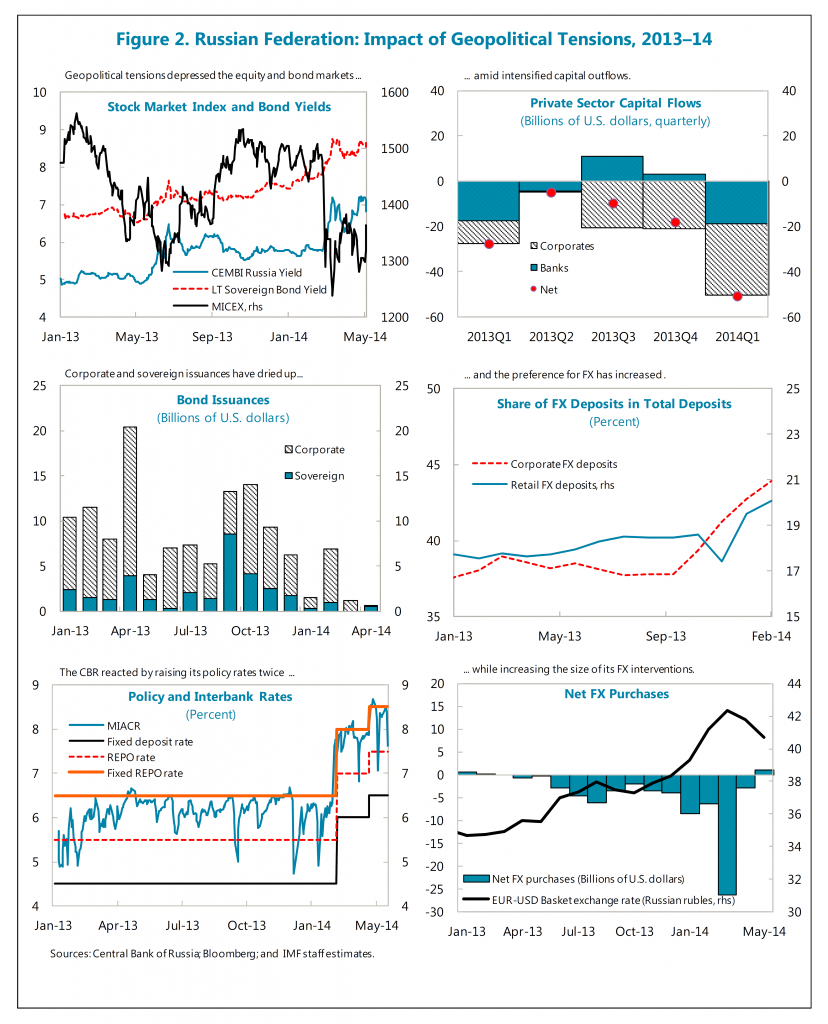 And here is an updated version of GDP growth.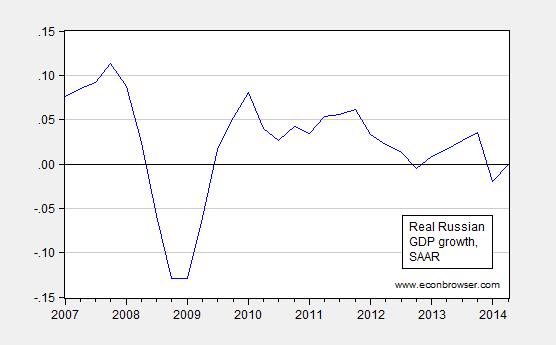 Figure 1: Russian q/q annualized GDP growth, in 2000 prices. Source: OECD via FRED through 2013Q4, Reuters for 2014, and author's calculations.
From the report:
Net private capital outflows increased significantly in the first quarter of 2014 to US$51 billion (Figure 2 and Box 3). Reserves at the CBR experienced additional downward pressures following the sharp increase in FX intervention in early March. The increased level of FX swaps and correspondent accounts between the CBR and domestic banks has temporarily cushioned the level of reserves, which have not declined by the total amount of interventions. While FX swaps were used to access CBR liquidity, the increase in the level of correspondent accounts at the CBR has reflected increased foreign assets repatriation by domestic banks amidst increasing geopolitical uncertainties.

Geopolitical tensions are negatively weighing on the cost and access to financing. Since March, sovereign and private issuances have declined very sharply, with borrowing rates increasing by an average of 100–150 basis points (Figure 2). The government has also cancelled a number of domestic auctions. Moody's and Fitch revised the outlook on Russia's sovereign BBB rating from stable to negative while S&P downgraded the sovereign rating by one notch to BBB-, its lowest investment grade category. This downgrade forced similar ratings cut on major Russian corporations such as Gazprom, Rosneft, and VTB bank, as well as subsidiaries of international banks. The geopolitical uncertainty has also given rise to dollarization pressures.
The outflow of $75 billion means that $24 billion worth of capital left Russia (on net) in the second quarter. While this means the pace of outflows is declining, it also means that the first half of the year witnessed a greater outflow than in the entirety of 2013. For certain, Russia seems on the way to the $100 billion outflow for 2014 that some had warned of.
How much of this outflow, and hence weakness in growth, is due to the imposition of sanctions, or the uncertainty associated with the possibility of additional sanctions? From Reuters:
Deputy Finance Minister Sergei Storchak said on Tuesday that sanctions were having a serious indirect impact" and warned of retaliation against further measures by the West.

…

"The real damage to the economy is potentially much more serious and comes from the voluntary self-sanctions taken by foreign investors, credit providers and some foreign companies active in Russia," Chris Weafer, a partner of Macro-Advisory, a consulting firm in Moscow, said in a note published by the European Leadership Network.

"While not compelled legally to restrict activities in Russia it is clear that many investors and big international companies have suspended new deals in Russia and have cut risk exposure."
In other words, the impact has been greater than some skeptics have asserted, and perhaps more in line with my earlier views [1]
Airbrushing History: ACA Edition
Date: Thursday, 10 Jul 2014 02:00
Reader Rick Stryker writes, after asserting Paul Krugman has misrepresented history:
…apologists fall back on the claim that Obamacare is a conservative idea. … That's nonsense.
Let me quote from A National Health System for America (Heritage Foundation, 1989), chapter 2, by Stuart A. Butler, Director of Domestic Policy Studies at the Heritage Foundation:
Creating a New Health Care System for Americans

By modifying the existing system, the U.S. can develop a new health care system that will achieve the stated but unfulfilled goals of health care systems overseas — choice, access, and economy.

…

Element #1: Every resident of the U.S. must, by law, be enrolled in an adequate health care plan to cover major health care costs.

This requirement would imply a compact between the U.S. government and its citizens: in return for the government's accepting an obligation to devise a market-based system guaranteeing access to care and protecting all families from financial distress due to the cost of an illness, each individual must agree to obtain a minimum level of protection. This means that, while government would take on the obligation to find ways of guaranteeing care fore those Americans unable to obtain protection in the market, perhaps because of chronic health problems or lack of income, Americans with sufficient means would no longer be able to be "free riders" on society by avoiding sensible health insurance expenditures and relying on others to pay for care in an emergency or in retirement.

…

The requirement to obtain basic insurance would have to be enforced. The easiest way to monitor compliance might be for households to furnish proof of insurance when they file their tax returns. … If the family did not enroll in another plan before the first insurance coverage lapsed and did not provide evidence of financial problems, a fine might be imposed.
The entire Heritage Foundation document is here. Chapter 2, written by Stuart A. Butler, Director of Domestic Policy Studies at the Heritage Foundation, starts at page 35.
What to Do about the "Crazy Euro"?
Date: Tuesday, 08 Jul 2014 19:00
From today's FT:
ECB under pressure to tackle 'crazy' euro

Pressure is mounting on the European Central Bank to take action against a persistently strong euro with a leading industrialist calling on Frankfurt to tackle the "crazy" strength of the currency.

…

Fabrice Brégier, chief executive of Airbus's passenger jet business, said the ECB should intervene to push the value of the euro against the dollar down by 10 per cent from an "excessive" $1.35 to between $1.20 and $1.25.

…
Following the euro over time, it's clear that the euro is fairly strong, although not matching the levels in period just around the financial crisis. Remember, however, the dollar was particularly weak — and hence the euro particularly strong — just before the onset of the recession.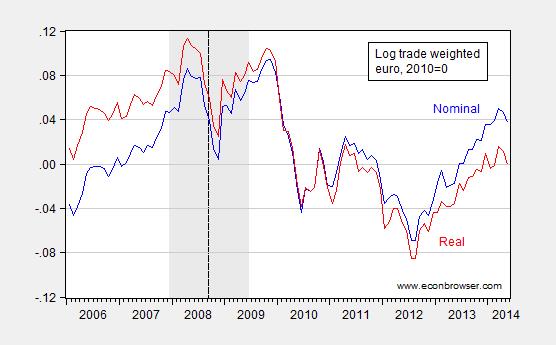 Figure 1: Log trade weighted value of the euro (broad), nominal (blue) and real (red), 2010=0. NBER defined US recession dates shaded gray. Dashed line at Lehman bankruptcy. Source: BIS.
Still, with euro area growth just barely creeping into the positive area, and with inflation far below target range, one could easily see how a weaker euro could help on both counts.
In terms of competitiveness, one would want to look to the unit labor cost deflated measures, rather than the CPI-deflated measure. Here, the same pattern emerges.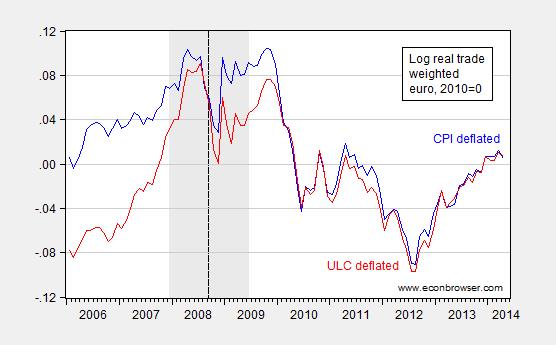 Figure 2: Log CPI-deflated trade weighted value of the euro (blue), and relative unit labor cost deflated (red), 2010=0. NBER defined US recession dates shaded gray. Dashed line at Lehman bankruptcy. Source: IMF IFS.
In the past, I (along with Jeff Frieden) have urged an increase in inflation. We didn't post a mechanism for achieving that higher inflation, although the usual unconventional monetary policy measures — including credit easing– would have been in contention. However, increasing the ECB's balance sheet faces some difficulties, ranging from legal to operational.
Nonetheless, today's headline reminded me of Jeff Frankel's proposal, made back in March.
The ECB should further ease monetary policy. Inflation at 0.8% across the Eurozone is below the target of 'close to 2%', and unemployment in most countries is still high. Under the current conditions, it is hard for the periphery countries to bring their costs the rest of the way back down to internationally competitive levels as they need to do. If inflation is below 1% Eurozone-wide, then the periphery countries have to suffer painful deflation.

The question is how the ECB can ease, since short-term interest rates are already close to zero.

…

What, then, should the ECB buy, if it is to expand the monetary base? It should not buy euro securities, but rather US treasury securities. In other words, it should go back to intervening in the foreign exchange market. Here are several reasons why.

First, it solves the problem of what to buy without raising legal obstacles. Operations in the foreign exchange market are well within the remit of the ECB.

Second, they also do not pose moral hazard issues (unless one thinks of the long-term moral hazard that the 'exorbitant privilege' of printing the world's international currency creates for US fiscal policy).

Third, ECB purchases of dollars would help push the foreign exchange value of the euro down against the dollar.

…
Frankel discusses some of the challenges to this measure. Certainly, there is some question of how other policymakers would react to such a policy measure; however, given current conditions — particularly the pace of inflation in the euro area — this approach should be given serious consideration.
Current economic conditions
Date: Sunday, 06 Jul 2014 14:02
I am a little slow responding to the stunning revision to the first-quarter GDP estimates that came out two weeks ago, but here are my thoughts about the new estimates.
The Bureau of Economic Analysis announced on June 25 that U.S. real GDP fell at a 2.9% annual rate during the first quarter, compared with an initial estimate of 0.1% growth for the quarter that the BEA had initially put out in April. The revision sets a couple of records. For one, it makes 2014:Q1 the worst quarter for GDP since World War II that was not part of an economic recession. The next closest contenders were a drop of almost 2.9% in the second quarter of 1981 and a 2.2% drop in the third quarter of 1973. Each of those was followed by a single quarter of solid GDP growth after which the economy fell into a full-blown recession, constituting some of the evidence behind Jeremy Nalewaik's claim that the economy often reaches a stall speed just before falling into a recession.
A second record was noted by the White House's Council of Economic Advisors Chair Jason Furman:
the estimates of GDP growth for 2014:Q1 represent the largest revision from an advance estimate to a third estimate, as well as the largest revision from a second estimate to a third estimate, in the roughly thirty years the Bureau of Economic Analysis has done these estimates.
The biggest single source of discrepancy from the earlier estimates came in health care services, which account for 1/6 of total personal consumption expenditures. Last month the BEA had claimed that health care added 1 percentage point to the Q1 GDP growth rate, whereas the new estimate is that it instead subtracted 0.2 percentage points. Jason Furman explains that the main survey that the BEA uses to track health care spending was not available until this month, and hence there was considerable guesswork in the original estimate. MFR's Joshua Shapiro nevertheless opines:
This is a crazy-sized revision, and speaks very loudly to the fact that nobody has a real handle on how the introduction of Obamacare has affected these data, nor for how long the distortions may last until things settle down.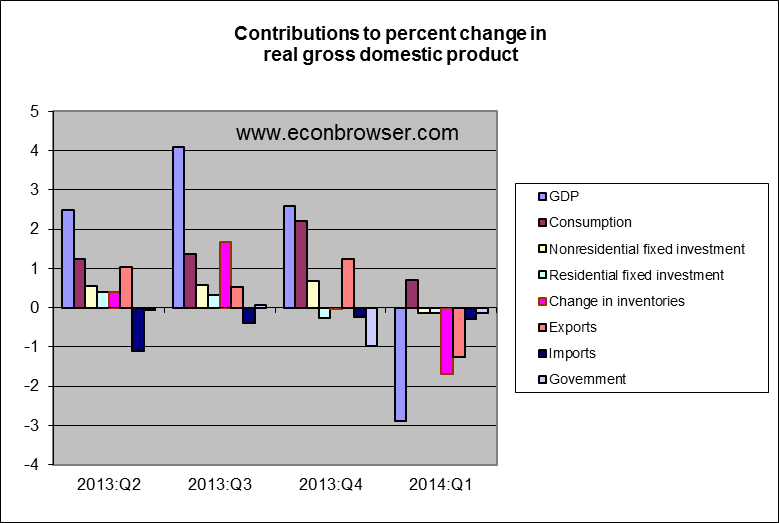 The second most important factor in the revision is that the Q1 deterioration of exports is now seen as even worse than originally reported, with lower exports subtracting 1.2 percentage points from the GDP growth rate. Part of this may be payback for unusually strong export numbers for 2013:Q4. But if it signals a weakening in China or other key trading partners it could be more worrisome.
Jason Furman makes a convincing case that some of the other weaknesses in the U.S. first-quarter GDP numbers represent a temporary effect of the unusually severe winter in much of the U.S., as evidenced for example in the March rebound from the January-February dip down in indicators such as light vehicle sales, core retail and food sales, and core capital goods shipments.
The June BLS employment report ([1], [2]) gave added confirmation that the economy was back to more solid growth for Q2.
So 2014:Q1 does not mark the beginning of a new recession. As for whether it could turn out to be a replay of 1981:Q2 or 1973:Q3, we'll have to wait and see.
On the Characteristics of Those Covered under Some Government Programs
Date: Friday, 04 Jul 2014 03:19
"…SNAP and Medicaid. These are programs for People Who Do Not Work."
Is this statement true?
From SNAPtoHealth:
Stigma associated with the SNAP program has led to several common misconceptions about how the program works and who receives the benefits. For instance, many Americans believe that the majority of SNAP benefits go towards people who could be working. In fact, more than half of SNAP recipients are children or the elderly. For the remaining working-age individuals, many of them are currently employed. At least forty percent of all SNAP beneficiaries live in a household with earnings. At the same time, the majority of SNAP households do not receive cash welfare benefits (around 10% receive cash welfare), with increasing numbers of SNAP beneficiaries obtaining their primary source of income from employment.
Medicaid
According to Garber/Collins (2014):
Prior to the waiver approval, working parents up to 16 percent of poverty were eligible for Medicaid…Currently, working parents under 33 percent of poverty and individuals ages 19 and 20 under 44 percent of poverty are eligible for Medicaid.
Now it is true that, as CBPP notes, many working poor do not qualify for Medicaid under the old provisions (and in states that refused to expand Medicaid):
In the typical (or median) state today, a working-poor parent loses eligibility for Medicaid when his or her income reaches only 63 percent of the poverty line (about $12,000 for a family of three in 2012). An unemployed parent must have income below 37 percent of the poverty line (about $7,100 in 2012) in the typical state in order to qualify for the program.
The irony is that Medicaid expansion would eliminate disincentives to earn income through working. As outlined here, most of the beneficiaries of a Medicaid expansion in those states that have not yet taken the offer would be working poor — between nearly 60 to 66% in Virginia, Missouri and Utah.
I don't typically cite anecdotes, but this one seemed sufficiently illustrative to merit quotation. From an October 2013 NYT article:
About half of poor and uninsured Hispanics live in states that are expanding Medicaid. But Texas, which has a large Hispanic population, rejected the expansion. Gladys Arbila, a housekeeper in Houston who earns $17,000 a year and supports two children, is under the poverty line and therefore not eligible for new subsidies. But she makes too much to qualify for Medicaid under the state's rules. She recently spent 36 hours waiting in the emergency room for a searing pain in her back.

"We came to this country, and we are legal and we work really hard," said Ms. Arbila, 45, who immigrated to the United States 12 years ago, and whose son is a soldier in Afghanistan. "Why we don't have the same opportunities as the others?"
Update, 7/5, 12:10PM: Just to be sure we are in agreement, I want to remind readers of how many of the people you meet on a day to day basis working at their job are on SNAP (Bloomberg, October 25, 2013):
America's low-wage, fast-food workers have been making a lot of news lately. Researchers at Berkeley released a report calculating that 52 percent of families of fast-food workers are enrolled in at least one public-assistance program, at a cost to taxpayers of about $7 billion a year. McDonald's employees, working for the biggest burger chain in the country, accounted for about $1.2 billion of that total.

Now a McDonald's (MCD) help line for employees, called McResource Line, has come to broader attention, courtesy of an advocacy group called Low Pay Is Not OK. In a taped conversation published online, a help-line representative is heard offering to help one McDonald's worker access a range public resources, from food stamps to Medicaid.

The employee, Nancy Salgado, earns $8.25 an hour after working for a decade at a McDonald's in Chicago. She can be heard describing the two kids she is raising on her own and asks for help to make ends meet. The McResource representative does her job well: She's matter-of-fact about Salgado's predicament, calmly explains the benefits Salgado might be eligible for, and answers all her questions. During the entire 14-minute conversation reviewed by Bloomberg Businessweek, Salgado doesn't ask why the McDonald's franchisee pays her less than she needs to raise a family, and the McResource representative never suggests Salgado should be paid more.

…
So, I will hazard a guess that there is not an inconsequential number of people on SNAP who "work".
The June Employment Release
Date: Thursday, 03 Jul 2014 22:21
Rapid and broad based employment growth
First, nonfarm employment has exceeded the previous peak level.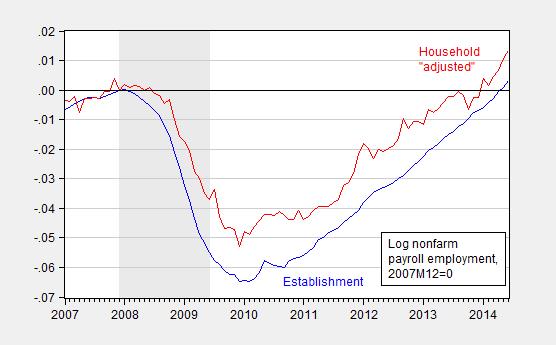 Figure 1: Log nonfarm payroll employment from establishment series (blue), and from household series adjusted to conform to NFP concept (red), 2007M12=0, seasonally adjusted. NBER defined recession dates shaded gray. Source: BEA, NBER, and author's calculations.
It is of interest to note that the household adjusted series — touted by conservatives during the G.W. Bush era as a better measure of nonfarm payroll employment — first exceeded the previous peak in January 2014, with no apparent mention by those same individuals. By that metric, total nonfarm employment has exceeded its previous peak by nearly one percent.
Private employment exceeded its previous peak in April. Employment and hours are now 0.8% above the previous peak.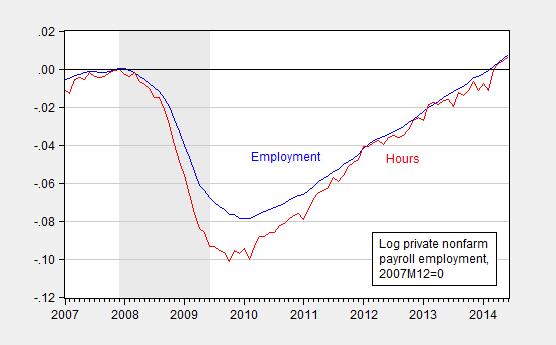 Figure 2: Log private nonfarm payroll employment from establishment series (blue), and aggregate hours (red), 2007M12=0, seasonally adjusted. NBER defined recession dates shaded gray. Source: BEA, NBER, and author's calculations.
Not only has growth (by either total or private employment) over the past five months matched or exceeded 200K, revisions are typically to the upside.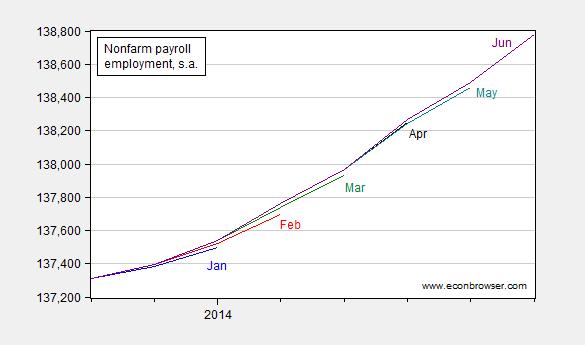 Figure 3: Nonfarm payroll employment January release (blue), February release (red), March release (green), April release (black), May release (teal), and June release (purple). Source: BLS.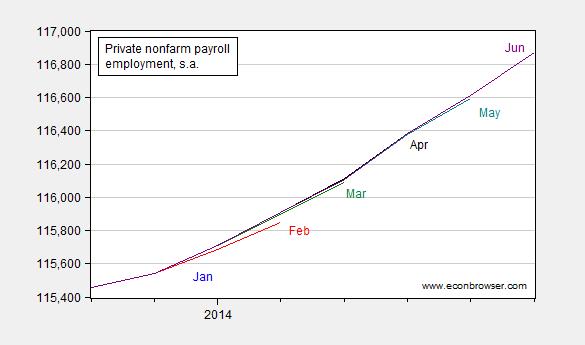 Figure 4: Private nonfarm payroll employment January release (blue), February release (red), March release (green), April release (black), May release (teal), and June release (purple). Source: BLS.
A reassuring point, made by Jason Furman at the CEA, is that the advance in employment is broad based.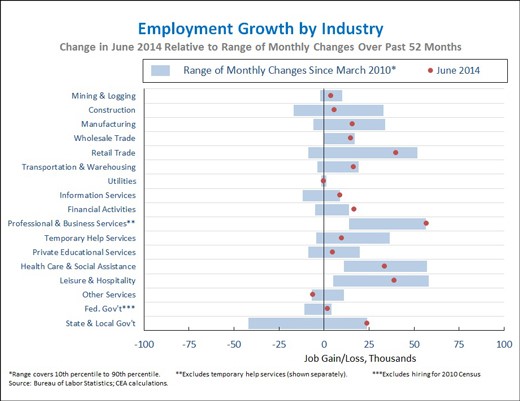 Figure 5: Source: Furman/CEA.
None of the foregoing should be viewed as a triumph of macroeconomic policy. For once I agree with Joint Economic Committee Chair Kevin Brady who stated "Today's strong jobs report comes as a welcome relief to Americans on Main Street. Unfortunately, as good as today's report is, the rate of job growth still isn't sufficient to eliminate the private sector jobs gap by the time President Obama leaves office." And the reason for that, in addition to the hangover from the debt binge of the 2000′s, is the imposition of too-early and unwise fiscal contraction (think sequester, cutting off extended unemployment, failure to extend SNAP, and failure to undertake additional infrastructure investments). Had there been less single-minded obstructionism, fiscal policy would have been much more counter-cyclical in nature, and the employment recovery accelerated.
With the acceleration in employment growth, there is ample discussion of tightening labor market and — without too much evidence — rising compensation costs. [1] The latest release does not provide much additional evidence of accelerating wage costs.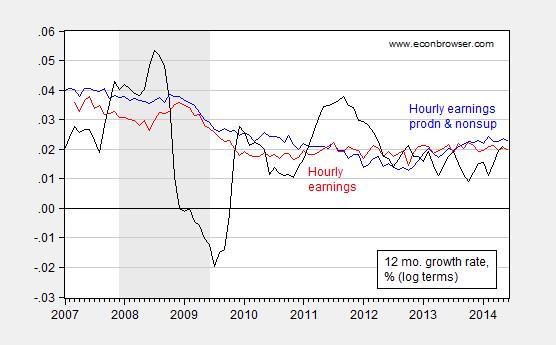 Figure 6: 12-month percent change in average hourly earnings for private sector production and nonsupervisory workers (blue), and for all private sector workers (red), and for CPI-all, all calculated as 12 month log differences. NBER defined recession dates shaded gray. Source: BLS via FRED, NBER, and author's calculations.
For more on the employment release, see CalculatedRisk, Madigan/WSJ RTE, Tim Duy, Applebaum/NYT Upshot, Norris/NYT Upshot, and Stone/CBPP.